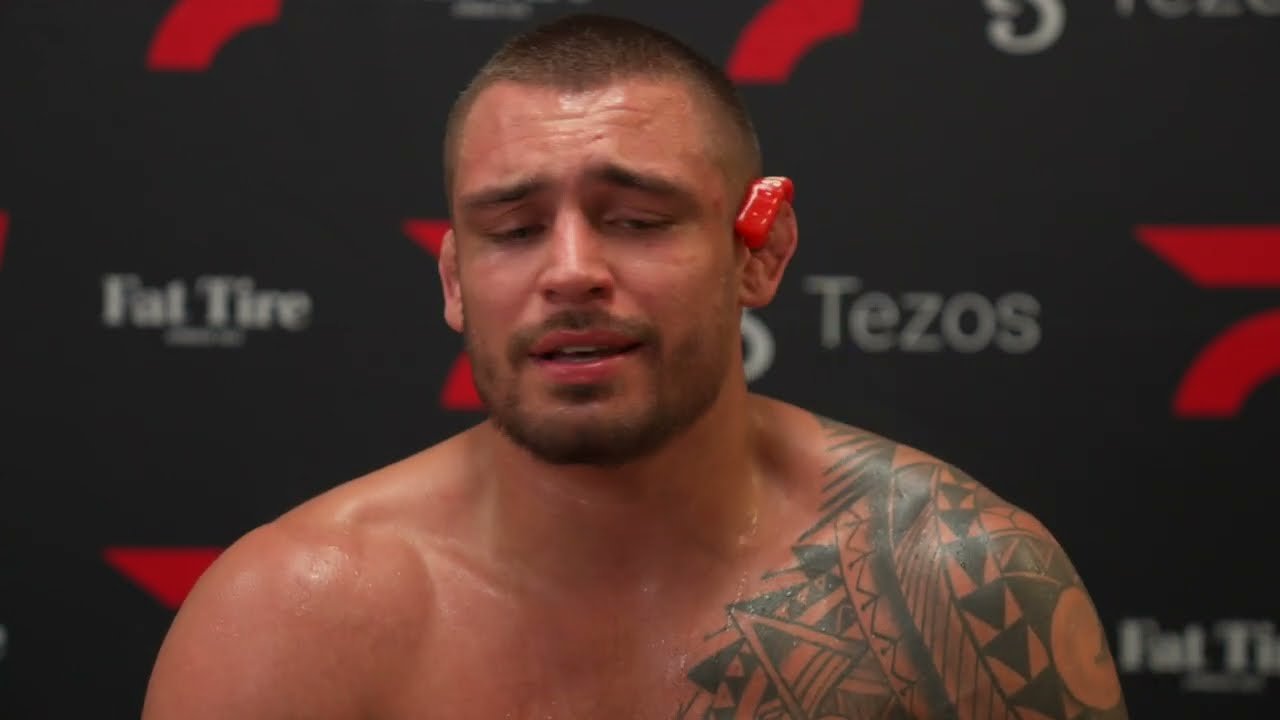 Disappointed Nicky Rod Determined To Be P4P Number One
In this article, readers will learn about Nick Rodriguez's determination to become the pound-for-pound number one in jiu jitsu. Despite feeling disappointed after his decision loss to Felipe Pena, Nick remains determined to improve his skills and achieve his goal. He expresses his frustration with the judging and emphasizes his numerous submission attempts during the fight, including heel hooks and straight ankles. Nick acknowledges the need to enhance his mechanics for finishing opponents, even if they resist tapping. Looking ahead, he mentions potential opponents like Baby Pen, Duarte, and Gordon, as he strives to solidify his position as the best in the field. Before concluding, Nick encourages readers to check out B Team Jiu-Jitsu on YouTube, adding a personal touch to his interview. Overall, this article provides insights into Nick Rodriguez's mindset, his aspirations, and his commitment to becoming the best in his sport.
Background
Nicky Rodriguez, a prominent figure in the world of jiu-jitsu, recently suffered a loss to Felipe Pena at a Submission Only event. This defeat left him feeling salty and disappointed, as he believed that he had executed multiple submission attempts during the match. However, the decision did not go in his favor, leading to expressions of frustration from Rodriguez.
Nicky Rodriguez's Loss to Felipe Pena
Feeling Salty and Disappointed
Rodriguez expressed his disappointment and frustration with the decision that awarded Pena the victory. He believed that the event was supposed to be centered around submissions, and he had executed several submission attempts throughout the match. Rodriguez felt that he had broken Pena's leg on two separate occasions and was perplexed as to how Pena could have been declared the winner.
Disagreement with the Decision
The confusion surrounding the decision to award Pena the win left Rodriguez at a loss for words. He questioned the legitimacy of Pena's attacks, especially considering his own relentless offensive moves in the form of heel hooks and straight ankle locks. Rodriguez could not comprehend how Pena's front head attempt could have outweighed his own submission attempts and successful attacks.
Highlighting Submission Attempts
Rodriguez wanted to emphasize the numerous submission attempts he executed during the match. From heel hooks to straight ankle locks, he made it clear that he had actively pursued victory through these techniques. Despite his frustration with the decision, Rodriguez acknowledged that he needed to not only secure submissions but also improve his mechanics for finishing opponents in order to secure wins in future competitions.
Expressions of Frustration
Rodriguez's frustration with the loss was evident in his expressions and words. He firmly believed that he had defeated Pena both through points and submission attempts. However, he acknowledged that he needed to become even more skilled in finishing opponents and breaking them in competition, even if they resist tapping. Rodriguez expressed determination to continue developing his submission skills, ultimately aiming to be recognized as the pound for pound number one in the jiu-jitsu world.
The Importance of Submissions
The Need to Finish Opponents
Rodriguez stressed the significance of submitting opponents to secure victories. While points and dominance during a match were important, he recognized that finishing an opponent through submission was the ultimate goal. Rodriguez understood that he needed to work on his mechanics to consistently secure submissions and extinguish any hope of his opponents escaping.
Improving Mechanics for Submissions
Acknowledging the need for improvement, Rodriguez highlighted the necessity of developing better mechanics to ensure successful submissions. He had identified that making a submission hold tight was not enough; he had to possess the skills to efficiently break an opponent's resistance, even if they were reluctant to tap. Rodriguez was determined to refine his technique and enhance his ability to execute submissions effectively.
Breaking Opponents in Competition
A key aspect of Rodriguez's development was his desire to break opponents in competition. He emphasized that the mental and physical aspect of breaking an opponent's will was vital for success. Whether it involved overcoming resistance or forcing an opponent to recognize their inevitable defeat, Rodriguez aimed to become proficient in breaking opponents both mentally and physically.
Gaining Confidence
The importance of securing submissions went beyond just winning matches for Rodriguez. He believed that consistent success in submitting opponents would boost his confidence and solidify his skills. Rodriguez understood that the more he could finish opponents, the more he would believe in his ability to compete against the top competitors and work towards becoming the number one pound for pound in the jiu-jitsu world.
Nicky Rodriguez's Determination
Desire to Face Top Competitors
Despite his loss to Pena, Rodriguez remained resolute in his desire to face and defeat the top competitors in jiu-jitsu. He viewed this defeat as a temporary setback and was motivated to come back stronger. Rodriguez understood that competing against the best was instrumental to his growth as an athlete.
Potential Opponents: Duarte and Gordon
Rodriguez mentioned potential opponents, including the highly regarded Matheus Diniz Duarte and the formidable Gordon Ryan. These were the caliber of competitors that Rodriguez aspired to face in order to further test his skills and prove himself as the best. He saw these matches as stepping stones on his journey to achieving his goal of becoming the number one pound for pound in the sport.
Goal to Become Pound for Pound Number One
Rodriguez's ultimate objective was to be recognized as the number one pound for pound in the jiu-jitsu world. This goal was not just a passing dream but a belief deeply rooted in his determination and skillset. Despite the setback of his loss to Pena, Rodriguez remained committed to his goal and confident in his ability to achieve it.
Belief in Achieving the Goal
Beyond just having a goal, Rodriguez genuinely believed that he had what it took to become the pound for pound number one. He saw his progress and improvement as evidence that he was on the right track. Rodriguez's unwavering belief in his abilities fueled his determination to continuously train, compete, and prove himself against the top competitors in the sport.
Next Steps for Nicky Rodriguez
Considering Rematch with Felipe Pena
One of Rodriguez's next steps was to deliberate on the possibility of a rematch with Felipe Pena. Having experienced a loss that he disagreed with, Rodriguez wanted to consider the option of facing Pena again to prove that he was the better grappler. A rematch would provide an opportunity for Rodriguez to rectify the previous outcome and reclaim his confidence.
Future Matches with Duarte and Gordon
In addition to a potential rematch with Pena, Rodriguez was eager to face other highly esteemed competitors, such as Matheus Diniz Duarte and Gordon Ryan. These matches would serve as significant milestones in his journey towards achieving his goal. Rodriguez recognized that challenging and defeating these elite opponents would solidify his position as a top grappler.
Focus on Becoming the Best
Rodriguez's next steps revolved around his commitment to becoming the best in the sport. He understood that this required intense training, dedication, and a strategic approach. Rodriguez aimed to focus his efforts on refining his skills, sharpening his technique, and continually pushing himself to reach new levels of excellence.
Training and Preparing
To achieve his goals, Rodriguez knew that he needed to invest in his training and preparation. He would work tirelessly to improve his mechanics for submissions, enhance his physical conditioning, and continue to sharpen his grappling skills. By dedicating himself to rigorous training and preparation, Rodriguez aimed to increase his chances of success in future competitions.
Promoting B Team Jiu-Jitsu
Inviting People to Check Out B Team Jiu-Jitsu on YouTube
In conclusion, Rodriguez took the opportunity to promote B Team Jiu-Jitsu on YouTube. He invited viewers to explore the content on his channel, showcasing his dedication and passion for the sport. Rodriguez urged people to check out B Team Jiu-Jitsu and immerse themselves in the jiu-jitsu community.
Encouraging Likes and Subscriptions
Rodriguez's final message was a call to action for viewers to like and subscribe to B Team Jiu-Jitsu on YouTube. By engaging with the channel's content, individuals could support Rodriguez's journey, stay updated on his progress, and become a part of his community. He showed appreciation for the support and encouragement from his fans and emphasized the importance of their involvement.
Conclusion
Nicky Rodriguez's loss to Felipe Pena at the Submission Only event left him feeling salty and disappointed. However, he expressed determination to bounce back and become the pound for pound number one in the jiu-jitsu world. Rodriguez highlighted the significance of submissions, improving his mechanics, and breaking opponents in competition. His next steps included considering rematches, facing other top competitors, and focusing on training and preparation. Ultimately, Rodriguez invited viewers to check out B Team Jiu-Jitsu on YouTube and encouraged them to like and subscribe to support his journey. With his unwavering determination and belief in his abilities, Nicky Rodriguez aimed to achieve his goal and solidify his position as one of the best in the sport.