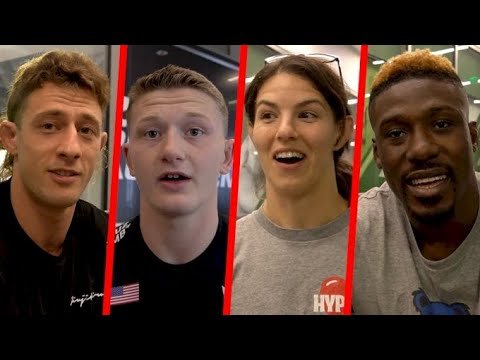 Pros Predict | Tezos WNO: Ste-Marie vs Bastos
Get ready for an exciting showdown as Brianna represents Montreal on the biggest stage in the Tezos WNO card. She has been on an unstoppable winning streak, impressing everyone with her skills and chaining attacks flawlessly. Although she may be underrated, she is determined to prove herself and show the world her true capabilities. Her opponent, Maisa, has also been a standout in the grappling world with her technical prowess. With both fighters being among the best in the world, this match is bound to be a thrilling battle. Additionally, keep an eye out for other highly anticipated matchups, such as Damien vs Cole, Luke vs Haisam, and Ethan vs Fabricio Andre. It's going to be a night filled with non-stop action and intense scrambles that you won't want to miss.
Pros Predict | Tezos WNO: Ste-Marie vs Bastos
Haisam Rida, Cole Abate, Damien Anderson, and Ethan Crelinsten, along with other pro grapplers, share their predictions for the best matches on the Tezos WNO card on November 11. These experts give insights into the fighters' strengths and weaknesses and discuss their expectations for the main event and other matches.
Haisam Rida's Picks
Haisam Rida is excited about Brianna, a representative from Montreal who has been on a winning streak for a long time. He acknowledges her skills and the fact that she still has potential to be even better. Maisa Bastos, in Haisam's opinion, is one of the most technical female grapplers. However, he is really impressed with Brianna's ability to chain attacks effectively, which puts pressure on her opponents. Haisam predicts that the Brianna vs Maisa match will be exciting and expects Brianna to come out with a win.
Cole Abate's Picks
Cole Abate is also excited about the upcoming matches, especially Brianna's. He recognizes Brianna's technical abilities and her impressive winning streak. Cole believes that Brianna is a force to be reckoned with, and while she may have lost to Fiona Davies, he still considers her to be an exceptional grappler. He expects an exciting match between Brianna and Maisa, with both wrestlers showcasing their skills.
Damien Anderson's Picks
Damien Anderson is looking forward to the main event between Brianna and Maisa. He acknowledges that both fighters are among the best in the world and expects a close game. Damien believes that the outcome of the match will heavily depend on how the fighters bring their opponents into their game. He also predicts that Damien vs Cole will be an interesting match, with Damien having an edge in submissions. Overall, he is excited for all the matches and expects high energy.
Ethan Crelinsten's Picks
Ethan Crelinsten, who hails from Montreal, expresses his excitement for his teammate Brianna's match against Maisa. He praises Brianna's exceptional grappling skills and her ability to consistently get to the back of her opponents. Ethan believes that Maisa may have trouble dealing with Brianna's back exposure. He also expects an entertaining match between himself and Fabricio Andre, acknowledging both fighters' entertaining styles and looking forward to the outcome.
Other Pros' Picks
Other professional grapplers also share their thoughts on the upcoming matches. They praise Brianna's winning streak, Maisa's technical abilities, and their anticipation for the main event. They express excitement for the matches involving Cole, describing him as an insanely talented fighter. The Damien vs Cole match is anticipated to be interesting, with predictions favoring Damien's offensive style. The Luke vs Haisam match is also expected to be intense, with Luke's leg lock skills and Haisam's physicality being highlighted. Lastly, the Ethan vs Fabricio match is predicted to be a treat for the fans, with both fighters having entertaining styles.
Brianna's Winning Streak
Brianna's winning streak is a topic of discussion among the professionals. They acknowledge her impressive performances and highlight her ability to consistently secure victories. They mention her loss to Fiona Davies, but also emphasize the exceptional skills she displayed during her run. The experts hold high expectations for Brianna's future matches and anticipate her continued success.
Expectations for the Main Event
The main event, featuring Brianna and Maisa, is highly anticipated by the professionals. They recognize both fighters as among the best in the world and expect an amazing match. The experts point out the importance of weight gain for Maisa, who has been preparing for the event. They anticipate a technical battle, with Maisa focusing on guard play and Brianna using her pressure game to create challenges. The professionals remind viewers not to underestimate the skills of these two remarkable female grapplers.
Damien vs Cole Match
The Damien vs Cole match is regarded as an interesting matchup. The professionals mention that the match was scheduled due to a last-minute change but express excitement and anticipation for it. Damien's ability to produce submissions and Cole's positional awareness are highlighted. The experts predict that Damien will take a more offensive approach and have a higher submission rate compared to Cole. They describe the match as a potential burner and emphasize their excitement for the outcome.
Luke vs Haisam Match
The Luke vs Haisam match is anticipated to be a captivating contest. The professionals note that Luke's leg lock skills, coupled with his training at New Wave, may give him an advantage. On the other hand, Haisam's physicality and standing position skills are seen as strengths. The outcome of the match is expected to depend on each fighter's ability to bring their opponent into their preferred game. The professionals express their interest in watching these two talented grapplers battle it out.
Ethan vs Fabricio Match
The Ethan vs Fabricio match is highly anticipated due to the entertaining fighting styles of both athletes. The professionals predict non-stop scrambles and emphasize the treat that the fans will enjoy. They commend Ethan's grappling prowess, particularly his ability to get to the back frequently. They are curious to see how Fabricio will handle Ethan's back exposure. Overall, excitement surrounds this match, and the professionals express their support for Ethan.
Overall, the professionals are looking forward to the matches on the Tezos WNO card. They provide insights into each fighter's strengths and weaknesses, expressing their expectations and analysis. Brianna's winning streak, the main event between Brianna and Maisa, and the other matches featuring Cole, Damien, Luke, Haisam, Ethan, and Fabricio generate excitement and anticipation among the professionals. The Tezos WNO event promises to be a thrilling showcase of talent and skill in the world of jiu jitsu.