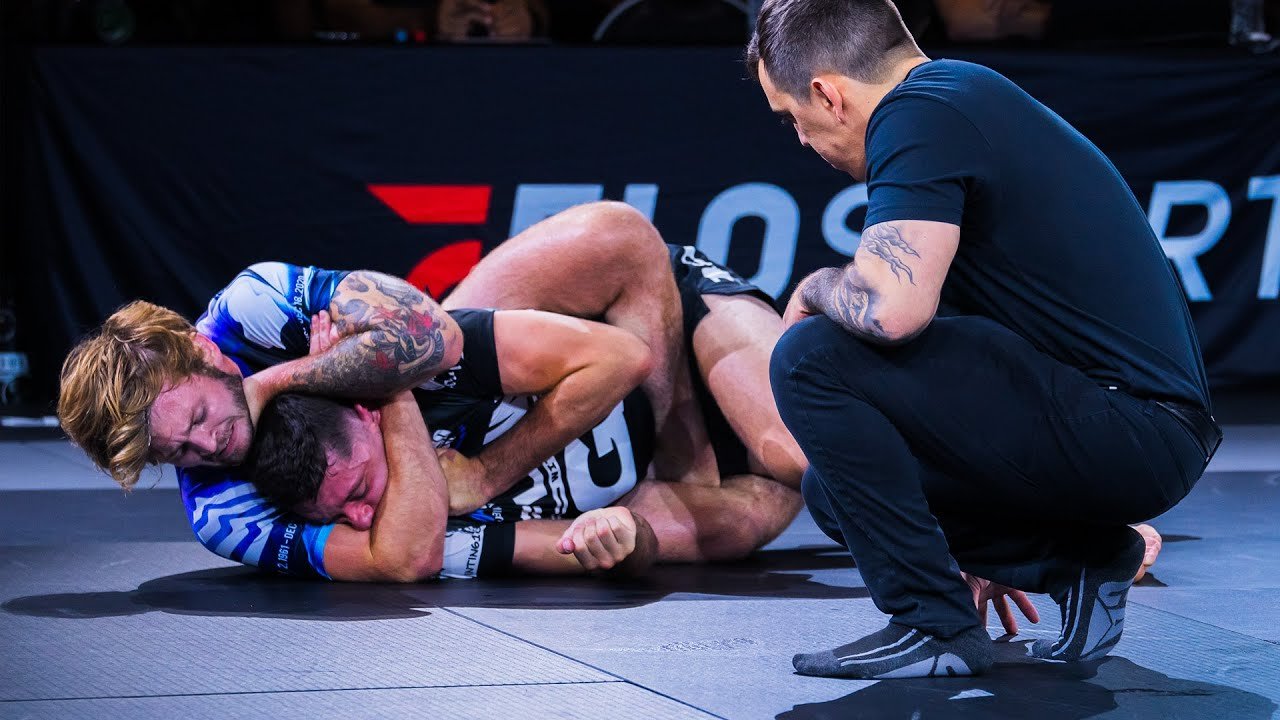 All Access: Nicky Ryan Emerges Victorious In WNO Return
In his highly anticipated return to competition after a two-year hiatus, Nicky Ryan delivered a phenomenal performance at WNO 19. Known for his background as a submission artist, Ryan has evolved his game to become a dominant positional player. Over the past three months, he has been relentless with his submissions, showcasing his sharpened skills. Ryan's last match was at ADCC, where he unfortunately suffered an injury. However, he made sure to prepare himself physically, moving around and warming up his lungs before his return to the mat. With three more matches to come at WNO 19, including a match against top competitors Davi Ramos and JT Torres, Ryan is eager to continue his winning streak and prove himself as a force to be reckoned with in the world of jiu-jitsu.
After a long absence from competition, Nicky Ryan made a triumphant comeback at WNO 19. Displaying his exceptional talent, Ryan dominated his return match against Renee Souza, securing a victory by submission. With a focus on future matches against formidable opponents like Davi Ramos and JT Torres, Ryan is determined to make his mark in the jiu-jitsu world once again. Stay tuned as he continues to showcase his skills and prove himself as a rising star in the sport.
Nicky Ryan's Return to Competition
After a Two-Year Hiatus
Nicky Ryan, a member of the B-team, recently made his long-awaited return to competitive jiu jitsu after a two-year hiatus. His absence from competition had left many fans and fellow athletes curious about how he would perform upon his return.
Phenomenal Performance at WNO 19
At the recent WNO 19 event, Nicky Ryan amazed both fans and critics with his exceptional performance. The young athlete showcased his skills and proved that the time away from competition had not dulled his abilities.
Evolution of Nicky Ryan's Game
From Submission Artist to Positional Player
Nicky Ryan's game has evolved significantly over the years. In the beginning, he was known for his submission prowess, constantly hunting for finishes. However, as his experience grew, he began to adopt a more strategic approach, focusing on positional dominance rather than solely seeking submissions. This shift in mindset has allowed him to become a more well-rounded and formidable competitor.
Sharp with Submissions in the Past 3 Months
In the past three months leading up to his return, Nicky Ryan has honed his submission skills to a razor-sharp level. His dedication to perfecting his techniques has paid off, as he has been able to secure numerous submission victories in his recent matches. This improvement in his submissions adds another layer of danger to his game that opponents must contend with.
Nicky Ryan's Last Match at ADCC
Nicky Ryan's Injury
Nicky Ryan's last match before his hiatus was at the prestigious ADCC tournament. However, he entered the competition already nursing an injury to his torac and tor meniscus. Despite his physical limitations, Nicky Ryan fought through the pain and competed to the best of his abilities. Unfortunately, the match ended with him sustaining further injury.
Pre-Match Preparation
Before his match at ADCC, Nicky Ryan went through a rigorous pre-match preparation routine. He moved around and blew out his lungs to get his body warmed up and ready for action. Despite not being in optimal health, he remained focused on the task at hand and mentally prepared himself for the upcoming challenge.
WNO 19: Three More Matches to Come
Although Nicky Ryan has already made a stellar comeback at WNO 19, there are still three more matches to be contested at the event. These matches promise to showcase even more exciting and high-level jiu jitsu, and fans eagerly anticipate what is to come.
Nikki Ryan's Return Match against Renee Souza
Nikki Ryan's Dominance
Nicky Ryan's return match at WNO 19 was against Renee Souza, and it was a display of complete dominance by Ryan. From the start of the match, Ryan took control and showcased his refined technique and tactical awareness. His ability to dictate the pace and positioning of the match proved to be a significant advantage.
Victory by Submission
In a testament to his sharpened submission skills, Nicky Ryan emerged victorious in his match against Renee Souza by way of submission. Ryan's calculated and precise approach allowed him to execute his techniques flawlessly, ultimately leading to the tap out of his opponent. This convincing win serves as a reminder of Ryan's talent and potential in the world of jiu jitsu.
Nikki Ryan's Future Matches
Competing Against Davi Ramos
Nicky Ryan expressed his desire to compete against top-tier competitors in the future. One of his potential opponents is Davi Ramos, an ADCC champion renowned for his grappling skills. A match between Ryan and Ramos would undoubtedly be a highly anticipated and exciting showdown, showcasing the clash of two exceptional talents.
Competing Against JT Torres
Another competitor that Nicky Ryan has his sights set on is JT Torres. Torres, like Ryan, is a decorated athlete with an impressive record in the sport. A match between these two competitors would undoubtedly be a thrilling display of skill, tenacity, and determination. Fans can only hope that this matchup becomes a reality and eagerly await the outcome.
In conclusion, Nicky Ryan's return to competition at WNO 19 after a two-year hiatus was met with tremendous excitement and anticipation. His performance at the event showcased his growth and evolution as an athlete. Moving forward, fans can look forward to seeing Nicky Ryan face off against top-level competitors, such as Davi Ramos and JT Torres, in what promises to be fierce and captivating matches.