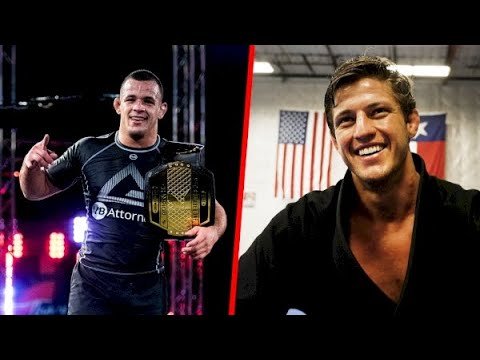 Nicholas Meregali Plans To Remain On Top For A Long Time
Fresh off a training session, Nicholas Meregali takes a moment to discuss his upcoming match at Who's Number One and his plans to stay at the top of the sport. He expresses his gratitude for his training partners at New Wave Jiu Jitsu and his excitement for integrating his Jiu Jitsu skills into the gi. With confidence in his abilities and a belief in the importance of submission-only rule sets, Nicholas is ready to showcase his skills, particularly in X-guard and ashgarami, against his opponent Pedro Mourinho. While acknowledging the decline of the gi in favor of no-gi, Nicholas takes it upon himself to bring the gi back into the spotlight and make a mark in the Jiu Jitsu world.
Introduction
Nicholas Meregali, a renowned Jiu Jitsu practitioner, is determined to establish himself as a dominant force in the sport for a long time to come. In this article, we delve into Meregali's mindset, training, and upcoming plans, focusing on his participation in the Who's Number One event.
Training for Who's Number One event
To prepare for the highly anticipated Who's Number One event, Meregali demonstrates his unwavering dedication and commitment to training. With a strategic approach, he carefully plans his preparation, focusing on sharpening his skills and physical conditioning. The intensity and schedule of his training sessions showcase his determination to excel in this event.
Opponent and Training with John Danaher
Meregali's opponent for the Who's Number One event is Pedro Mourinho, a well-respected competitor in the Jiu Jitsu community. Meregali acknowledges Mourinho's skills and approaches the match with a combination of respect and competitiveness. Moreover, Meregali speaks highly of his training partner, John Danaher, who has been instrumental in elevating his game. Their training sessions have significantly influenced Meregali's technique and strategic approach to matches.
Integration of Jiu Jitsu Skills into the Gi
Although Meregali has primarily focused on no-gi Jiu Jitsu in recent times, he recognizes the importance of incorporating gi skills into his repertoire. He believes that excelling in both aspects of the sport makes a practitioner more well-rounded. Meregali discusses the benefits and challenges of training in the gi and emphasizes the need to continually adapt and improve his gi-specific techniques.
Display of Skills in X-guard and Ashgarami
Meregali places particular emphasis on showcasing his skills in X-guard and Ashgarami, two highly effective techniques in Jiu Jitsu. He explains the nuances and training strategies associated with these techniques and how they can be effectively applied in real matches. With a deep understanding of these techniques and their intricacies, Meregali has high expectations for their implementation in his upcoming match.
Respect for Pedro Mourinho
Meregali holds great respect for his opponent, Pedro Mourinho. He recognizes Mourinho's accomplishments and the battles he has fought against some of the best in the sport. Meregali approaches the match with a humble mindset, understanding that it will be a tough challenge and a chance for both competitors to showcase their skills.
Bringing Back the Gi in Who's Number One
Meregali firmly believes that the gi should not be considered obsolete in Jiu Jitsu. He feels passionate about reintroducing the gi in high-profile events like Who's Number One. Meregali sees this as an opportunity to demonstrate the effectiveness and artistry of gi-based techniques. Through his participation in Who's Number One, he aims to make a significant impact in reviving interest in gi Jiu Jitsu.
Focus on Submission-Only Rule Sets
Meregali expresses his preference for submission-only rule sets in Jiu Jitsu competitions. He believes that these rule sets align with the true goal of Jiu Jitsu, which is to secure submissions. Meregali emphasizes the significance of actively pursuing submissions rather than relying on points or positional dominance. He sees submission-only rule sets as a way to showcase the technical mastery and efficiency of his skills.
Confidence in Skills and World Ranking
Confidence radiates from Meregali as he discusses his skill set and world ranking. He firmly believes that he possesses the necessary skills to be considered the best in the world. Meregali highlights his ability to employ a diverse range of guards, his relentless top pressure, and his dominant back control. With these skills in his arsenal, he is confident in his ability to excel in the upcoming Who's Number One event.
Gratitude for Training Partners at New Wave Jiu Jitsu
Meregali expresses his gratitude for his training partners at New Wave Jiu Jitsu, where he feels at home. He acknowledges the importance of having a supportive and competitive training environment that pushes him to his limits. Meregali recognizes the value of a strong team and the role it plays in his growth and success.
Strong contenders in the upcoming World Championships
Looking ahead to the World Championships, Meregali identifies Caio Terra and Eric Muniz as formidable opponents. He acknowledges their skills and past performances and expects them to be strong contenders in the competition. Meregali recognizes the competitive nature of the sport and the need to continuously develop his skills to stay on top.
Possibility of a match with Joshua
During the conversation, the possibility of a match with Joshua is briefly mentioned. However, Meregali respects Joshua's decision to retire and does not delve further into the topic. It is clear that Meregali is focused on his own journey and the challenges that lie ahead.
Conclusion
In conclusion, Nicholas Meregali's determination to remain at the top of the Jiu Jitsu world is evident through his training, mindset, and upcoming plans. As he prepares for the Who's Number One event, Meregali's integration of gi skills, focus on submission-only rule sets, and confidence in his abilities set him apart. With gratitude for his training partners and a deep respect for his opponent, Meregali's passion for the sport shines through. As he looks ahead to the future, Meregali is excited about the upcoming match and confident in his ability to leave a lasting impact in Jiu Jitsu.