All Access: Felipe Pena and Nicky Rod Face Off In California
Get ready for an epic showdown as Felipe Pena and Nicky Rod go head-to-head in Costa Mesa, California on February 25th. In this highly anticipated jiu jitsu match, Pena seeks redemption after losing to Rod in the 80cc. Both fighters have been diligently preparing for this intense battle, with Pena making significant lifestyle changes to enhance his training, and Rod focusing on honing his skills as an athlete. The match promises to be a thrilling display of strength and technique, with Pena's superior skills on the feet and Rod's relentless wrestling style. Don't miss this exciting event as these two formidable opponents face off in what could be a career-defining moment for both fighters. Catch all the action on FloGrappling and be sure to mark your calendars for this must-watch clash.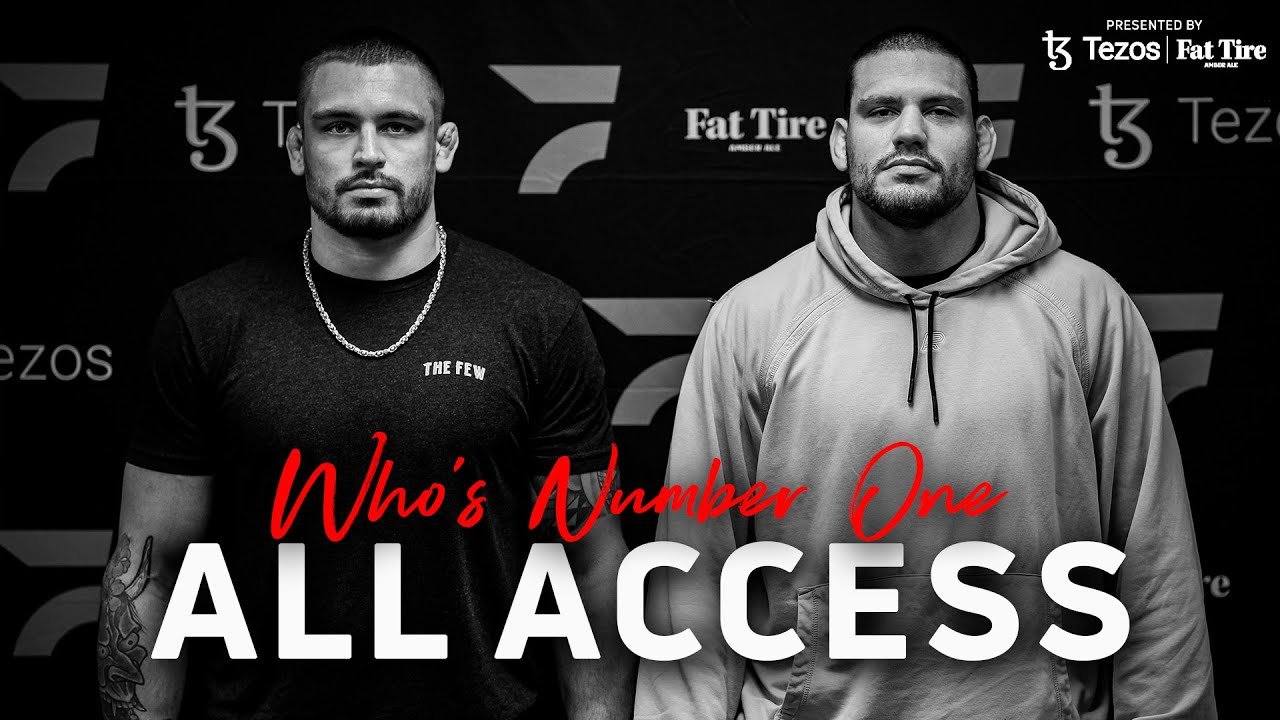 Preparations for Tezos WNO in California
Final preparations for the event
The final preparations are underway for the Tezos WNO (Who's Number One) event in Costa Mesa, California. Both Felipe Pena and Nicky Rod are busy getting ready for their highly anticipated match. With the event just around the corner, the athletes are putting in their last-minute training sessions, making sure they are in top form for the competition.
Date and location of the event
The Tezos WNO event is scheduled to take place on February 25th in Costa Mesa, California. The venue for the event is yet to be announced, but fans can expect an exciting evening of top-level jiu jitsu action.
Tezos WNO
Tezos WNO is a prestigious jiu jitsu event that brings together some of the best athletes in the world. It showcases high-level matches and gives fans an opportunity to witness the skills and techniques of world-class grapplers. The event is known for its competitive matchups and thrilling action, and the upcoming match between Felipe Pena and Nicky Rod promises to be no different.
Introduction to Felipe Pena and Nicky Rod
Background information on Felipe Pena
Felipe Pena is a highly accomplished Brazilian jiu jitsu athlete known for his technical prowess and strategic approach to the sport. He has won numerous titles throughout his career, including multiple World Championships, making him one of the most decorated athletes in the sport. Pena is known for his dynamic style and ability to adapt to any opponent, making him a formidable force on the mat.
Background information on Nicky Rod
Nicky Rodriguez, also known as Nicky Rod, is a rising star in the world of jiu jitsu. Hailing from the B team in Austin, Texas, Rodriguez has quickly made a name for himself with his explosive style and dominant performances. Despite being relatively new to the sport, he has already achieved notable victories and continues to impress with his strength and athleticism.
Felipe Pena's Training Preparation
Changes made to his training routine
In preparation for the upcoming match, Felipe Pena has made significant changes to his training routine. He has gone back to being a full-time athlete, dedicating himself entirely to his training. Pena relocated to San Diego, California, to surround himself with top-level training partners and to focus solely on his preparation for the match. This change allowed him to push himself beyond his limits and step out of his comfort zone, resulting in improvements in his technique and physical conditioning.
Focus on being a better athlete
Pena's primary focus during his training preparation has been on becoming a better overall athlete. He has worked on improving his strength, agility, and endurance, in addition to refining his jiu jitsu skills. By approaching his training from a holistic perspective, Pena aims to enhance his performance on the mat and elevate his abilities as an athlete.
Excitement and confidence for the match
Felipe Pena is filled with excitement and confidence as he prepares for the match against Nicky Rod. Having previously lost to Rod in the ADCC (Abu Dhabi Combat Club) competition, Pena sees this rematch as an opportunity for redemption. He considers Rod to be a tough opponent but believes that he has what it takes to come out on top. Pena's excitement and confidence drive him to put in the necessary work and dedication to ensure a successful performance in the upcoming match.
Nicky Rod's Training Preparation
Different training partners
Nicky Rod's training preparation for the Tezos WNO event involved seeking out different training partners to diversify his experiences on the mats. By training with a variety of athletes, Rod was able to learn and adapt to different styles and techniques. This exposure to various training methodologies has allowed him to expand his skill set and further develop his own unique style of jiu jitsu.
Focus on heavy training
Another key aspect of Rod's training preparation was focusing on heavy training sessions. He dedicated hours to intense workouts and conditioning drills, pushing his physical limits and building strength and endurance. This emphasis on heavy training has helped Rod become a stronger and more formidable competitor, preparing him for the challenges he will face in the match against Felipe Pena.
Excitement for the match
Nicky Rod is thrilled about the upcoming match against Felipe Pena. Having previously had a successful match against Pena in the ADCC competition, Rod is confident in his abilities and looks forward to showcasing his skills once again. He sees this match as an opportunity to prove himself as one of the top athletes in the sport and is excited about the challenge that lies ahead.
Match Strategy and Predictions
Felipe Pena's strategy
Felipe Pena's strategy for the match against Nicky Rod revolves around his exceptional ground game and technical prowess. Pena anticipates that Rod will try to wrestle, as he usually does, so his plan is to capitalize on his superior skills on the feet. Pena aims to dominate the standing position and potentially secure a victory through a submission from the back or a mounted position. He believes that a win against Rod would be a significant milestone in his career, adding another title to his impressive list of accomplishments.
Nicky Rod's strategy
Nicky Rod's strategy for the upcoming match against Felipe Pena centers around his explosive and dynamic style. He plans to utilize his strength and athleticism to overpower his opponent and impose his will on the mat. Rod is confident in his standing game and intends to push the pace and engage in a high-energy match. He aims to showcase his skills and finish the match with a dominant performance.
Predictions for the outcome
As the match approaches, the predictions for the outcome between Felipe Pena and Nicky Rod are varied. With both athletes being highly skilled and determined, it is difficult to predict a clear winner. However, fans and experts expect an intense and highly competitive match, filled with exciting exchanges and technical displays. The outcome will be determined by the athletes' abilities to execute their strategies and capitalize on their strengths.
The Importance of the Match
Relevance of the match in their careers
The match between Felipe Pena and Nicky Rod holds significant importance for both athletes' careers. A victory for Pena would not only serve as a redemption for his previous loss to Rod but also solidify his position as one of the top competitors in the sport. For Rod, a win would further establish his rising status and potentially open doors to more high-profile matches and opportunities.
Adding titles to their resumes
Both athletes have already accomplished a great deal in their careers, with numerous titles and accolades to their names. However, a win in this match would add another impressive accomplishment to their resumes. Being able to defeat a top-level opponent like Pena or Rod adds credibility and elevates their status as elite athletes in the jiu jitsu community.
Last Minute Details
Nick Rodriguez stepping in on short notice
One of the last-minute details to note about the Tezos WNO event is Nick Rodriguez stepping in on short notice. Rodriguez was brought in to replace an originally scheduled opponent, showcasing his eagerness to face top-level competition and his willingness to take on challenges at a moment's notice.
Weight of the fighters
Another important detail to consider is the weight of the fighters. Nicky Rod weighs in at 234.4 pounds, while Felipe Pena weighs in at 228.0 pounds. This weight difference adds an intriguing element to the match, as Rodriguez's size and strength could potentially play a factor in the outcome.
Event schedule
The Tezos WNO event is scheduled to begin at 6 o'clock Pacific Standard Time on February 25th. The main event between Felipe Pena and Nicky Rod will likely take place towards the end of the event, captivating fans with its high stakes and anticipated showdown.
Undercard Matches
JT vs. Majeed
One of the undercard matches to watch out for is the matchup between JT and Majeed. Both athletes are highly skilled and have proven themselves as formidable competitors. This match promises to deliver intense grappling action and showcase the technical abilities of these talented jiu jitsu practitioners.
Pedro vs. Carlo
Another exciting undercard match at the Tezos WNO event is the matchup between Pedro and Carlo. Both athletes possess impressive skill sets and have shown great potential throughout their careers. This match is expected to be highly competitive, with both fighters vying for a victory and a chance to make a name for themselves on the big stage.
Free matches on Facebook and YouTube
Fans can enjoy the first two matches of the Tezos WNO event for free on Facebook and YouTube. This allows a wider audience to witness the skill and excitement of the undercard matchups, creating a buzz and anticipation for the main event.
Main Event
Felipe Pena vs. Nicky Rod
The main event of the Tezos WNO event is the highly anticipated match between Felipe Pena and Nicky Rod. This rematch is eagerly awaited by fans and experts alike, as both athletes bring their unique styles and strengths to the mats. The matchup promises to be a thrilling display of technical prowess and athleticism.
Date and time of the match
The match between Felipe Pena and Nicky Rod is set to take place on February 25th at 6 o'clock Pacific Standard Time. Fans can tune in to witness the culmination of the athletes' hard work and preparation as they go head-to-head in a battle for victory.
Conclusion
The upcoming Tezos WNO event featuring the match between Felipe Pena and Nicky Rod has generated immense anticipation and excitement within the jiu jitsu community. The final preparations, strategies, and predictions highlight the dedication and commitment of these athletes as they strive for victory. With an impressive undercard and a main event filled with talent and skill, the event promises to be a night of intensity, competitiveness, and memorable moments. Fans eagerly await the opportunity to witness the clash between two exceptional competitors on February 25th in Costa Mesa, California.