Incredible Comeback: Lucas Pinheiro Heads To Brasileiro Final
Lucas Pinheiro, also known as "Bad Boy," has made an incredible comeback in the jiu-jitsu world, securing his spot in the finals of the Brasileiro tournament. In a thrilling video by FloGrappling, Lucas is seen escaping a dangerous triangle submission and quickly transitioning to an aggressive counterattack, ultimately achieving his second submission and earning his first black belt finals berth. This remarkable feat is a testament to Lucas' determination and resilience, as he refuses to give up and always strives to push himself to the limit. Lucas expresses his gratitude for the opportunity and is thrilled to showcase his skills in this prestigious tournament. He credits his success to hard work and dedication, and he hopes that his performance will inspire and entertain the audience. The anticipation for the final match is high, and fans eagerly await Lucas Pinheiro's next move on the mat.
The intense video captures Lucas' emotions as he reflects on the close call with the triangle submission. Despite the challenges and doubts in his mind, he remains determined not to tap out and focuses on finding a way out of the difficult situation. Lucas acknowledges the hard work he has put in and respects his opponent and everyone involved in the tournament. He is grateful for the support and hopes that the audience enjoys the show he and his opponent have put on. With his sights set on the finals, Lucas Pinheiro is ready to continue his incredible journey in the Brasileiro tournament, leaving fans eagerly awaiting his upcoming match.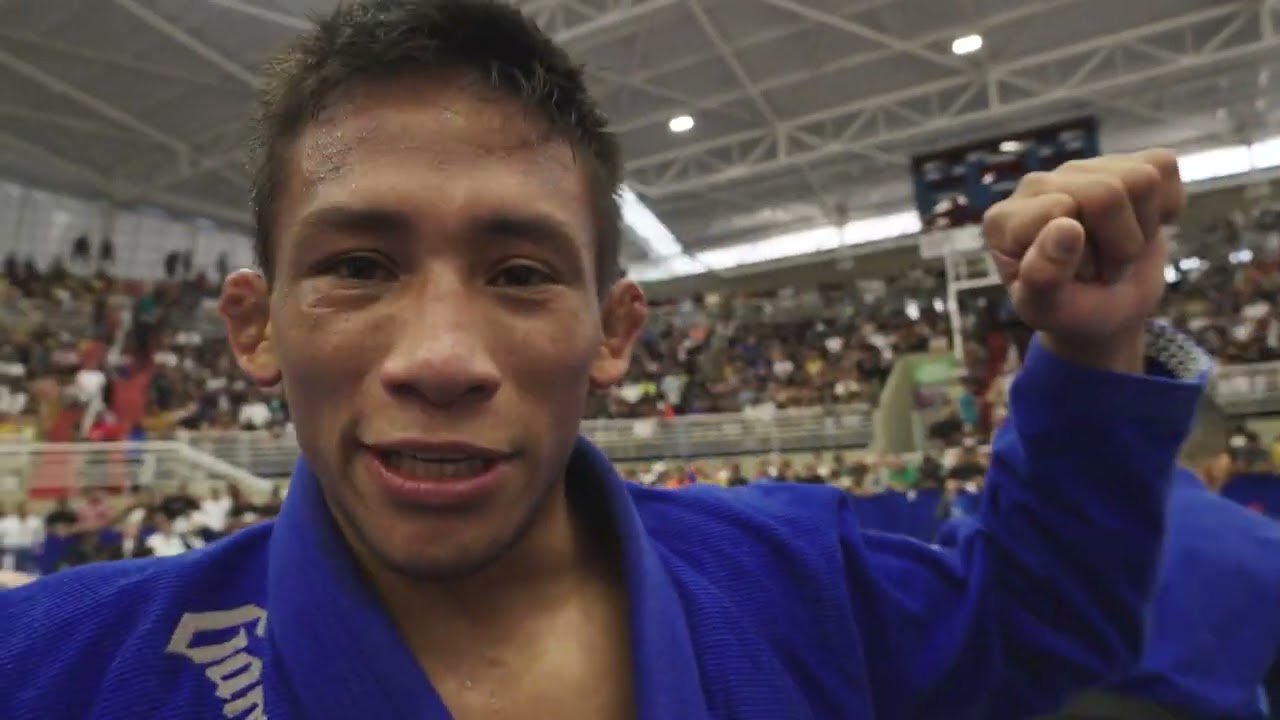 Lucas Pinheiro's Journey
From White Belt to Black Belt
Lucas Pinheiro started his jiu jitsu journey as a white belt, completely new to the art and techniques of the sport. Like any beginner, he faced numerous challenges, but his determination and passion for the sport pushed him to overcome them. He dedicated countless hours to training and honing his skills, gradually progressing through the ranks and eventually earning his black belt.
Overcoming Challenges
Throughout his journey, Lucas encountered various challenges that tested his resilience and perseverance. From grappling with skilled opponents to dealing with injuries and setbacks, he faced adversity head-on and never allowed it to deter him from his ultimate goal. The challenges he faced only fueled his motivation to become the best version of himself on and off the mats.
Reaching the Brasileiro Final
Lucas Pinheiro's relentless dedication to his craft paid off when he reached the finals of the prestigious Brasileiro competition. This achievement was a true testament to his hard work and commitment to the sport. It was a significant milestone in his jiu jitsu journey and solidified his position among the top competitors in the world.
The Vicious Triangle Escape
Caught in a Deadly Hold
During one of his matches on the road to the Brasileiro final, Lucas found himself trapped in a deadly triangle choke. The pressure and intensity of the hold threatened to defeat him, but he refused to give in. With the weight of the match and countless thoughts racing through his mind, Lucas remained focused and determined to find a way to escape.
Fighting against the Odds
The odds may have been stacked against Lucas, but he thrived on challenges and adversity. He knew that giving up was not an option, and he dug deep within himself to summon the strength and technique necessary to survive the submission attempt. The competition was fierce, but Lucas refused to let it break his spirit.
Finding the Escape Route
With his back against the wall, Lucas carefully analyzed the situation and managed to find an escape route. Drawing from his technical knowledge and sheer mental toughness, he executed a brilliant escape that left both his opponent and the audience in awe. It was a turning point in the match and a shining example of Lucas's resilience and determination.
On the Attack
Seizing the Opportunity
Having escaped the deadly triangle, Lucas Pinheiro quickly shifted gears and seized the opportunity to take control of the match. He knew that he had a limited window of opportunity, and he wasn't about to let it slip away. With razor-sharp focus, he launched into his offensive game plan, showcasing his technical prowess and strategic thinking.
Scoring the Second Submission
Lucas's aggressive approach paid off when he successfully executed a submission technique, securing his second submission of the match. The hard work and countless hours of training had paid off, and the crowd erupted with applause and admiration for his skill and determination. Lucas proved that he was not just a survivor but a force to be reckoned with on the mats.
Showing Dominance
With both a successful escape and an impressive submission to his name, Lucas Pinheiro displayed his dominance in the match. He controlled the pace and dictated the flow of the fight, leaving his opponent struggling to catch up. His confidence and presence on the mats were undeniable, leaving an indelible mark on not just the match but the minds of all who witnessed his performance.
First Black Belt Finals Berth
A Milestone Achievement
Earning a spot in the black belt finals at Brasileiro was a milestone achievement for Lucas Pinheiro. It was the culmination of years of hard work, sacrifice, and dedication to the sport. The black belt division is highly competitive and reserved for the best of the best, and Lucas had proven himself worthy of competing among them.
Hard Work Pays Off
Lucas's journey from a white belt to the black belt finals was a testament to the power of hard work. He invested countless hours of training, refining his technique, conditioning his body, and developing his mental fortitude. He consistently pushed himself to the limit, always striving for improvement and growth. The fruits of his labor were evident in his performances and achievements.
Entering the Big League
Reaching the black belt finals at Brasileiro meant that Lucas had officially entered the big league of jiu jitsu. He was now among the elite competitors in the sport, and with that came increased expectations and challenges. Lucas embraced this new chapter of his jiu jitsu journey with humility and a hunger to continue pushing his limits and proving himself at the highest level.
No Giving Up
The Key to Success
Throughout Lucas Pinheiro's journey, there was one quality that resurfaced time and time again: his refusal to give up. He understood that success in jiu jitsu, like in life, required perseverance and the ability to overcome obstacles. No matter the circumstances, Lucas always found the strength within himself to keep pushing forward and never surrender.
Never Backing Down
Lucas's determination to never back down was ingrained in his character. He approached every training session and every match with an unwavering mindset of determination and resilience. He believed that true growth and development came from pushing beyond his comfort zone and confronting the challenges head-on.
Pushing Beyond Limits
Lucas Pinheiro continually pushed himself beyond his limits, both physically and mentally. He understood that true progress came from embracing discomfort and embracing the grind. Whether it was through long hours of drilling, intense sparring sessions, or mental fortitude exercises, he was always striving to become better than he was yesterday.
Belief in Yourself
Mental Strength and Resilience
Lucas's success in jiu jitsu was not only a result of his physical abilities but also his mental strength and resilience. He firmly believed in his own abilities and refused to let self-doubt creep into his mindset. Through years of training and competing, he had developed an unshakable confidence in his skills and his capacity to overcome any challenge.
Overcoming Self-Doubt
Like any athlete, Lucas had moments of self-doubt and uncertainty. However, he understood that allowing those doubts to consume him would only hinder his progress. Instead, he adopted a mindset of self-belief and used his doubts as fuel to prove himself wrong. He continually worked on building a strong mental foundation that would support him in the face of adversity.
Trust in Your Abilities
One of the key lessons Lucas learned on his journey was the importance of trusting in his abilities. He knew that all the hours of training and preparation had equipped him with the skills necessary to succeed. By embracing his own potential and trusting in his abilities, he was able to approach matches with a calm confidence that often proved to be the deciding factor.
Putting on a Show
Entertaining the Crowd
Lucas Pinheiro understood that jiu jitsu was not just a sport but also a form of entertainment. He recognized the importance of putting on a show for the audience, showcasing the beauty and technicality of the art. His matches were not just about winning but about engaging and captivating the crowd, leaving them awe-inspired and hungry for more.
Impressing the Audience
Through his dynamic and aggressive style of jiu jitsu, Lucas consistently impressed the audience with his performances. His matches were filled with exciting exchanges, breathtaking submissions, and displays of exceptional athleticism. He understood the importance of leaving a lasting impression on the minds of those watching, and he never failed to deliver.
Leaving a Lasting Impression
Lucas Pinheiro's performances on the mats were not easily forgotten. He left a lasting impression on everyone who had the privilege of witnessing his matches. Whether it was through his technical brilliance, his relentless tenacity, or his display of sportsmanship, Lucas captivated the hearts and minds of both jiu jitsu enthusiasts and casual spectators alike.
Respect for Opponents
Honoring the Competition
Lucas Pinheiro held a deep respect for his opponents, recognizing the time and effort they had dedicated to their craft. He approached each match with a sense of honor, knowing that his opponents were as equally committed to their jiu jitsu journeys as he was. This respect for the competition fueled his desire to always push himself to his utmost potential.
Acknowledging the Skill of Others
In the spirit of good sportsmanship, Lucas acknowledged the skill and talent of his opponents. He understood that every competitor brought a unique set of abilities to the mat, and their success was a testament to their hard work. By acknowledging and appreciating the talent of others, Lucas fostered an environment of mutual respect and admiration within the jiu jitsu community.
Maintaining Sportsmanship
Lucas firmly believed in the importance of maintaining sportsmanship throughout his matches. He exhibited grace in both victory and defeat, always extending a hand of respect and gratitude to his opponents. Win or lose, Lucas was able to maintain a level of respect and dignity that elevated not only himself but the sport he loved.
Grateful for the Journey
Appreciating the Support
Lucas Pinheiro recognized that his journey in jiu jitsu would not have been possible without the unwavering support of his loved ones and his team. He expressed deep gratitude for their belief in him and their constant encouragement. Their support gave him the strength and motivation to keep pushing forward, even during the toughest moments.
Reflecting on the Progress
Throughout his journey, Lucas took the time to reflect on his progress and appreciate how far he had come. He understood that growth and improvement were not always linear, and there were ups and downs along the way. By reflecting on his journey, he gained a greater sense of perspective and gratitude for the opportunities and experiences that jiu jitsu had brought into his life.
Embracing the Experience
Above all else, Lucas Pinheiro embraced the entire experience of his jiu jitsu journey. He understood that it was not just about the destination but also about the lessons learned, the friendships formed, and the personal growth achieved. He approached every training session, every match, and every setback with an open mind and a willingness to learn, grow, and adapt.
Conclusion
Lucas Pinheiro's Remarkable Comeback
Lucas Pinheiro's journey from a white belt to the black belt finals at Brasileiro is nothing short of remarkable. His unwavering determination, mental fortitude, and technical brilliance propelled him to overcome challenges, escape deadly holds, and achieve milestone accomplishments. His performances on the mats captivated and inspired jiu jitsu enthusiasts around the world, establishing him as a beacon of inspiration for aspiring athletes.
Inspiration for Jiu Jitsu Enthusiasts
Lucas Pinheiro's journey serves as an inspiration to jiu jitsu enthusiasts everywhere. His story is a testament to the power of perseverance, hard work, and self-belief. Through his remarkable comeback, he has shown that with dedication and resilience, anything is possible. Lucas Pinheiro's journey will continue to motivate and encourage individuals to pursue their own jiu jitsu dreams, pushing beyond their limits and embracing the journey along the way.