Can Gabi Garcia Capture Her FIFTH ADCC Gold? | 2022 ADCC Vlog | Ep. 6
In this episode of the 2022 ADCC Vlog, the focus is on Gabi Garcia, a 4-time ADCC champion, as she prepares for the upcoming ADCC World Championship. The video, produced by FloGrappling, gives viewers a glimpse into a day in Gabi's life as she trains and gets ready for the tournament. ADCC is known as the most prestigious and toughest tournament in professional grappling, and taking home the gold can be life-changing. The vlog aims to show how the best athletes in the world are preparing and working towards their dreams, and takes viewers on a journey across the globe to see the behind-the-scenes process.
The vlog starts off with Gabi discussing her training schedule and sharing her thoughts on music. Viewers get a taste of her training session, as well as her recovery routine, which includes cryotherapy. The video highlights Gabi's dedication and drive, as she talks about her years of experience and the impact she wants to make on her students and future generations. Overall, the vlog offers an intimate and engaging look into Gabi Garcia's journey as she aims to capture her fifth ADCC gold.
Preparing for the 2022 ADCC World Championship
The ADCC World Championship is widely regarded as one of the toughest and most prestigious tournaments in professional grappling. It is a platform where the best athletes from all over the world come together to compete for the ultimate prize – the ADCC gold. In this article, we will take a closer look at one of the most dominant women in ADCC history, Gabi Garcia, and how she is preparing for the 2022 ADCC World Championship.
Introduction to Gabi Garcia
Gabi Garcia is a Brazilian Jiu-Jitsu black belt and a four-time ADCC champion. She has established herself as one of the most dominant women in the sport and has consistently proven her skills and prowess on the mats. With her immense strength, technical expertise, and competitive spirit, Gabi has become a force to be reckoned with in the ADCC circuit.
Gabi's Training Schedule
Gabi Garcia's training schedule is intense and grueling, reflecting her dedication and commitment to the sport. She trains multiple times a day, focusing on various aspects of her game, including strength and conditioning, technique drills, sparring sessions, and recovery. Her training regimen is carefully crafted to ensure that she is always at the top of her game and ready to face any opponent who stands in her way.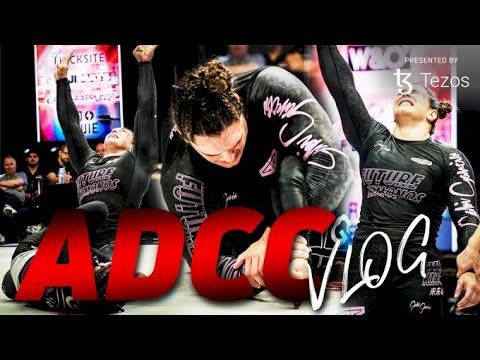 A Day in the Life of Gabi Garcia
To get a glimpse into Gabi Garcia's daily routine, we follow her around as she goes through her day. From the moment she wakes up to the time she goes to bed, Gabi's life revolves around training, recovery, and maximizing her performance.
Morning Routine
Gabi starts her day with a carefully curated morning routine. She believes in the power of starting the day right, both physically and mentally. Her routine includes stretching, meditation, and visualization exercises to prepare her mind and body for the challenges ahead. This helps her set a positive tone for the day and ensures that she is fully focused and prepared for her training sessions.
Breakfast with Gabi
Nutrition plays a crucial role in an athlete's performance, and Gabi understands the importance of fueling her body with the right foods. We join her for breakfast, where she emphasizes the significance of a balanced meal that provides her with the necessary energy and nutrients. She incorporates a mix of protein, carbohydrates, and healthy fats into her breakfast to optimize her performance and aid in muscle recovery.
Training Drills and Techniques
Gabi's training sessions are intense and purposeful. She focuses on drilling fundamental techniques and refining her existing skills. Whether it's practicing takedowns, submissions, or positional control, Gabi leaves no stone unturned in her quest for perfection. She understands the importance of repetition and consistency in honing her skills and constantly seeks to improve her technique.
Following Gabi Around
As we continue to follow Gabi throughout her day, it becomes evident that her dedication to the sport is unparalleled. She demonstrates her discipline and work ethic in every aspect of her life, from training to recovery to spending time with her students. Gabi's passion for Brazilian Jiu-Jitsu shines through as she interacts with her teammates and imparts her knowledge to the next generation of athletes.
Meeting Up with Gabi in Los Angeles
We have the opportunity to meet up with Gabi Garcia in Los Angeles, where she is currently preparing for the upcoming ADCC World Championship. She takes us through her training facilities, introduces us to her teammates, and gives us an inside look at her training sessions. We witness firsthand the level of dedication and hard work that goes into being a world-class athlete like Gabi.
Conclusion
Gabi Garcia's journey to capture her fifth ADCC gold is a testament to her resilience, determination, and love for the sport of Brazilian Jiu-Jitsu. As she continues to prepare for the 2022 ADCC World Championship, Gabi inspires aspiring athletes with her unwavering commitment and relentless pursuit of excellence. It is through her dedication that she has cemented her place as one of the greatest women in ADCC history, and all eyes will be on her as she steps onto the mats once again.